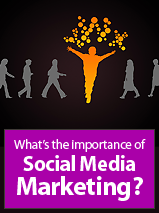 Is your business taking advantage of nurturing relationships and capturing leads in the social media world? Starting a Facebook and/or Twitter page is NOT enough. It is the steps that take place after your business starts the social media pages that matter the most. What are you doing TODAY to harness the power of social media for businesses?
Social Media should not be your core marketing tool for your business. However, it plays an integral role in amplifying your advertising and marketing efforts.
* How To Monitor Facebook and Twitter
* How To Nurture Relationships via Social Media
* And Much Much More.
Fill out the form to your right for your FREE and INSTANT Copy from BlinkJar Media! We are your social media experts.